Core Faculty
Daniel Botsman is an historian of Japan, whose interests span the period from the 17th century to the present, with a particular focus on the social and political transformations of the 19th century.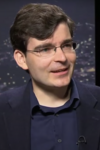 Fabian Drixler teaches Japanese history. He is particularly interested in cultural history and historical demography. These approaches converge in his book Mabiki: Infanticide and Population Growth in Eastern Japan, 1660-1950.
Hannah Shepherd's teaching and research interests focus on modern Japan and its colonial empire, with an emphasis on the connected twentieth-century histories of imperial expansion, urban growth, and movement of peoples between Japan and Korea.